현재 사용 중인 언어로는 이 페이지를 사용할 수 없습니다. Google Translate을 사용하여 자동 번역된 페이지 를 볼 수 있습니다. Renishaw에게는 이 서비스를 제공할 책임이 없으며 번역 결과를 저희가 확인하지도 않았습니다.
추가로 도움이 필요하시면 저희에게 연락해 주십시오.
Customised precision styli for metrology
Renishaw's in-house design team can develop custom styli if our standard product range does not provide the answer.
Optimal measurement solution
Here at Renishaw, we pride ourselves on knowing everything there is to know about styli. They have been a key part of our measuring systems since 1973, when Renishaw introduced the very first touch-trigger probe. Designed by our team of experts over many years, our extensive range of styli covers standard options and custom solutions.
In many application challenges, the solution lies in the choice of stylus. Access to workpiece features, inspection times and probe performance are all influenced by the choice of stylus. Every aspect is carefully considered during the design of a custom stylus. We incorporate the ideal choice of ball and stem materials while optimising probe performance for your specific application.
Did you know that we have a dedicated custom styli design service?
Renishaw's Styli division offers a unique service. We provide a total custom stylus solution across a range of CMM, machine tool, Equator™ gauging and scanning applications, where a standard stylus may not be suitable.
We have designed over 14,000 bespoke custom styli, tailored specifically to suit a wide range of probing applications and industries worldwide. Aerospace, automotive and high-volume manufacturing sectors are just some of the industries we work within.
Contact us
We specialise in creating custom products to meet our customers' needs. Talk to our team about accuracy, part feature inspection, delivery time, and costs.
Our styli are designed to be robust and reliable, offering superior performance and accuracy in any situation. With our expertise and experience, we can provide the perfect solution for your application requirements.
Discover Renishaw's custom stylus design and manufacturing service
We believe that selecting the correct stylus should be easy. Our design team are here to support and guide you through the process from start to finish.
They will be able to provide advice on what type of stylus would best suit your needs based on individual requirements. They can offer guidance on various aspects of stylus design and selection such as performance, cleaning, material choice and calibration.
Furthermore, they can answer any questions you may have about the following topics to ensure that you make the right decision:
How temperature changes affect measurement.
How to calibrate a stylus.
Adhesive and abrasive wear issues.
When and why your stylus should be replaced.
Why you should clean your stylus and how to do this.
We look forward to talking all things styli with you. All questions are welcome.
Additively manufactured styli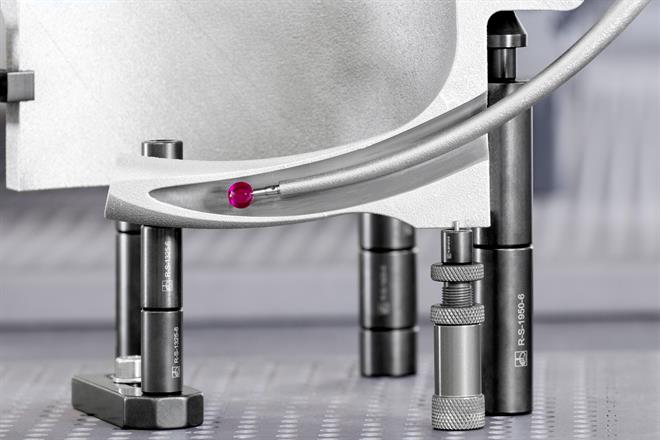 Metal additive manufacturing (AM) is a flexible and powerful technology. It allows us to create components and parts that cannot be made using traditional manufacturing methods.
These can include complex shapes with internal structures and latticework that are both light and strong, enabling repeatable metrology.
The high degree of flexibility in design means additively manufactured styli can be created and customised for almost any application. Custom styli for metrology applications provide more measurement options than ever before.
All additively manufactured styli are designed and produced in house by Renishaw, ensuring short lead times and high standards of quality.
Let us design and 3D print an additively manufactured stylus for you.
OPTiMUM™ diamond styli
Diamond-coated styli offer long-lasting scanning performance in demanding applications. Benefits include increased working life and a reduction in recalibration and inspection downtime.
Diamond coated spheres retain their roundness after scanning on abrasive surfaces. They don't pick up material or wear prematurely wear when scanning a part.
We can design diamond coated styli according to your needs. They can be made in multiple thread sizes and stem materials. Ball sizes range from 1.5 mm up to 8 mm, to suit your specific application.
All OPTiMUM diamond styli are designed and produced in house, ensuring short lead-times and high standards of quality.
We will work closely with you to find an appropriate metrology solution to meet your application needs.

Total product service
The Renishaw styli range is comprehensive. Please refer to our precision styli for metrology page for more information.
If you can't find what you're looking for in our comprehensive catalogue of standard solutions, contact us for bespoke support. Our teams have extensive experience and knowledge in designing and manufacturing custom products to suit your specific requirements.
We can take control of producing intricate designs, using a modern change management and design system. Furthermore, we can draw on over 60 years of collective engineering experience. Our team can ensure the accuracy, reliability and product regulatory compliance of your Renishaw styli.
We always recommend using Renishaw styli to maximise your quality and probing performance. Costs and delivery times are reduced by using standard parts where possible.
Our customers often challenge us to create innovative designs. Get in touch and see what we can develop for you.
Precision styli education guide
Understand key technical information on selecting and using the correct type, materials, design and calibration.