현재 사용 중인 언어로는 이 페이지를 사용할 수 없습니다. Google Translate을 사용하여 자동 번역된 페이지 를 볼 수 있습니다. Renishaw에게는 이 서비스를 제공할 책임이 없으며 번역 결과를 저희가 확인하지도 않았습니다.
추가로 도움이 필요하시면 저희에게 연락해 주십시오.
Renishaw prints works of art for Folkestone Triennial arts festival
14th October 2014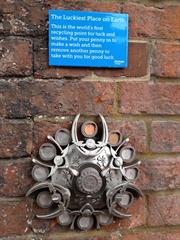 The global engineering firm Renishaw has started 3D printing luck in the form of four fitting sculptures and the world's first recycling point for luck and wishes. The pieces were created in collaboration with Strange Cargo, a Folkestone-based visual and public arts company commissioned to produce a new piece for the UK's renowned Folkestone Triennial arts festival.
For the installation, entitled The Luckiest Place on Earth, Renishaw produced the intricately designed and sculpted luck and wish recycling point from titanium using one of its AM250 additive manufacturing systems. The system welds layers of fine metallic powder using a precisely controlled laser beam, producing the complex plaque in a single piece.
The elaborately crafted titanium plaque incorporates a variety of lucky symbols into its design, including wish bones, horse shoes, clovers, shooting stars, black cats and more.
"We're incredibly pleased with how accurately our additive manufacturing machine has been able to reproduce Strange Cargo's unusual and alluring design for the luck and wish recycling point," enthused Chris Pockett, head of communications at Renishaw. "The piece is yet another example of the potential of 3D printing when it comes to design freedom. 3D printing is no longer just a prototyping method; it's a practical solution for producing highly complex one-off and small batch builds."
Visitors to The Luckiest Place on Earth are invited to make a wish and leave a penny at the recycling point, then remove someone else's penny as a memento of fortune gained.
The piece currently resides under the Folkestone Central Railway Bridge where four brightly coloured sculptures stand guard on the plinths, transforming the area into a lucky gateway. The statues resemble four fortunate Folkestone residents that were specifically chosen from 700 applicants and digitally scanned then reproduced as 3D printed nylon figures.
"Working with Renishaw has been an incredible experience," beamed Brigitte Orasinski, artistic director at Strange Cargo. "Their approachability, innovation and expertise have enabled my team of artists and digital designers to realise Strange Cargo's vision for our artwork, The Luckiest Place on Earth.
"The resulting 3D printed luck point and sculptures are groundbreaking. I still can't believe how quickly Renishaw were able to create such complex designs."
The public arts piece is already attracting a great deal of public attention and positive feedback. The Folkestone Triennial runs from August 30 to November 2, for more information go to www.folkestonetriennial.org.uk/.
The GreenTeam initially opted for aluminium wheel carriers, but it soon became clear that only a combination of a force-optimised design with less material, and a light material with a very high tensile strength, such as titanium, could further reduce the weight of the wheel carrier. "Compared with previous aluminium wheel carriers, Renishaw was able to save a total of 1.5 kg in vehicle weight, enabling the lightest vehicle so far." Renishaw GmbH (Germany)
Titanium alloy is a wise material choice when you need lightweight, high strength and corrosion resistant components, however titanium is notoriously difficult to machine and cast. The Green Team found it hard to find a sponsor able to manufacture the optimised wheel carrier design using conventional methods. With its metal powder-based additive manufacturing system, capable of producing complex component geometries, Renishaw became the new premium GreenTeam sponsor.
Support structures are necessary for the majority of additive manufacturing builds. They anchor the build and dissipate heat, allowing overhanging parts of the structure to be built up layer-by-layer. The wheel carriers were additively built using Renishaw's AM250 additive manufacturing system using minimal supports, which are easily removed post build.
The need for support structures may seem wasteful, however in traditional subtractive machining the ratio of material needed to produce a finished part such as this can be as high as 19:1. With additive manufacturing that ratio is closer to 1:1, in this case 1.12:1.
Renishaw provides a design review service to anyone considering Renishaw's laser melting systems as a production solution. Your component or assembly will be reviewed by Renishaw's applications engineers who can make recommendations on DfM (Design for Manufacture), digitally process the model, and build a sample component using one of its on-site AM250 systems. A pre-build report, inspection report, and component price estimate can also be provided on request.
About Empire Cycles
Empire Cycles is a unique British bike designing and manufacturing company in the North-West of England. Passionate about using great British engineering to create elite products, the Company offers innovative designs to the world's mountain bikers and downhillers.
By working together, Renishaw and Empire Cycles optimised the bicycle design for additive manufacture, eliminating many of the downward facing surfaces that would otherwise have needed wasteful support structures.